A few weekends ago I was reminded of how important 'girl time' is. I was invited to one of my best friend's bridal shower and had a blast!  My girlfriend is having an amazing DIY wedding, and she came up with the idea of getting all of her girlfriends together to make different items to be used for her wedding.  I was privileged enough to spend the afternoon surrounded by a group of very artistic and crafty women.  We all came together for the sole purpose of celebrating our friend by doing our best to make her wedding day gorgeous and special.  As I sat there wielding a hot glue gun, it all came flooding back to me.  Before being a mommy took up all of my time, I was always dreaming of and actually making different items for friends and family.  It was so much a part of my lifestyle I couldn't hardly imagine myself not always doing it.  Yet, here I am with a completely different focus and now I spend my time dreaming up activities that I can do with my son.  The days of spending a whole afternoon in front of my sewing machine have now become play dates at the park.  I am in no way complaining, but after the weekend with my friends, I realized I miss my crafty time.  
As mothers, I think that we become so absorbed in our children we often lose important parts of ourselves. I don't think it's intentional – it just seems that our priorities shift.  At least for me, the things that were once so important became secondary to my child.  So much so that I didn't even realize how much I was missing it. I think it happens to the best of us.  The time with my girlfriends made me realize that I too have needs, and those needs are every bit as important as my child's needs.  Easier said then done, I know, but we mothers need to recognize it and not feel guilty about it.   Sometimes it's important for us to put the kid down and pick ourselves back up again.  We will be much better mothers for it .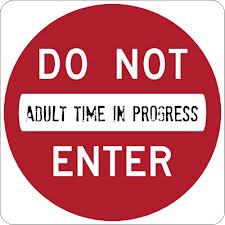 The short "kid-free" weekend with my friends left me feeling recharged and reenergized.  I came back a relaxed, happy and inspired mom.  Since then, I've made it a point to get back into the things I enjoy.  I came home and started my garden (something I haven't even thought about in the last year), I'm taking steps to start a sewing group to learn to repurpose clothing I already have, and I'm hoping to dust off my sewing machine – and glue gun – and get crafting again.
In the end, I'm grateful to my friends for reawakening the part of me that needs to create something.  To think –  all it took was an afternoon with friends, wine, glue guns, and the hum of a sewing machine to get me going again.  I guess that's what friends are for. Thanks Ladies!!