For the past 3 months we have been in full blown solids mode with my son and I've been having so much fun with it.  Like most mothers, I am very conscious of what I give my baby.  Knowing full well that what I give him now will affect his food choices later.  So the old debate of "fruit or veggies fist" came to into play as I prepared his first meal.  I was told by quite a few people that if you give a baby fruit first, they will not like vegetables because they will get used to (and prefer) the sweetness of fruit.  After seeing so many of my friends kids turn their noses up at veggies, I got a little concerned. I then quickly dismissed that idea as ridiculous, because when you think about it, breast milk is really sweet.
In the end I chose to give him a pear. Why a pear you ask?  Simply because I just happened to get a organic vegetable delivery and pears seemed to be the softest item in the box.  So there I went peeling, steaming an pureeing away a different item every few days.  Now after getting through the single ingredient test period (to be sure that he isn't sensitive to any type of food allergies) I've finally gotten to the point where I can start mixing ingredients.
I've had a blast trying to discover ways to flavor foods with out using salt or any sweeteners. I've learned my boy prefers his veggies roasted to steamed (mini gourmand already) and I've been getting jiggy in the kitchen.   I spend a few days of each week preparing for what I'm going to make him.  A friend and I have started a weekly play date/farmers market visit to get all the ingredients needed for the week's meals (baby's as well as ours).  Not only is he getting healthy meals but my husband and I are eating so much better these days as well.  I've been making dishes such as; roasted gingered carrots, roasted zucchini with cumin, and roasted carrots, zucchini, broccoli and apple (my son's favorite).  I make a big batch for the whole family. My husband and I enjoy some and the rest gets pureed for my boy.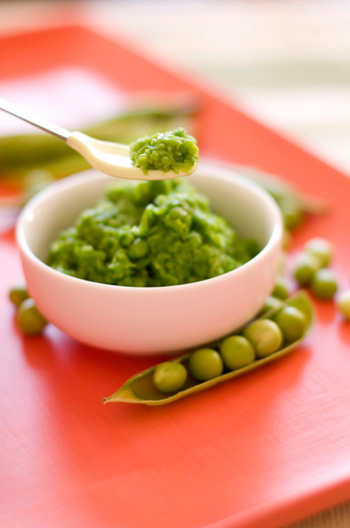 Ezra's Favorite Puree
2 large organic carrots
2 large organic zucchini
1 1/2 cup of organic broccoli
1 large organic apple
Slice all ingredients into small pieces (or larger if the whole family is going to enjoy). Toss with olive oil and any herbs or spices you favor.  I tend to use cumin or Trader Joe's 21 seasoning salute.  Roast at 400 degrees for about 20 mins. Keeping an eye on the broccoli, it tends to cook faster then the rest of the ingredients.  Serve to those with teeth, and puree in a blender or food processor until desired consistency for those without teeth.
Right now I'm taking advantage of the fact that I actually have time (at least when my son allows me the time) to make us all healthy meals.  I know that after I go back to work, this will probably change, but for now I'm enjoying it.  Do any of you have any special recipes your children really enjoy that you'd like to share?